Working on a home décor project? Do we have the perfect alternative to conventional foam for you! Smart Foam® is perfect for chair cushions, outdoor furniture, recreational vehicles, interior design projects, and more. It's 100% polyester, mildew resistant, hypoallergenic, flame resistant, and won't yellow or disintegrate over time. So, go ahead and get creative! We can't wait to see what you come up with!
Smart Foam is a smart alternative to conventional foam. It's mildew resistant, won't yellow/disintegrate over time, and allows for water to drain right through it – making it perfect for indoor/outdoor projects.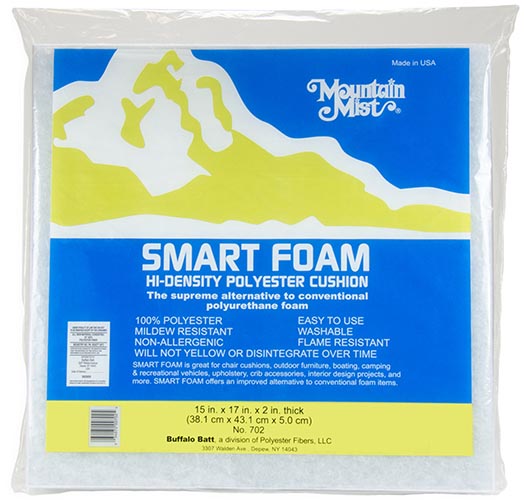 Sure Foam is our multipurpose conventional foam. It is soft, yet durable, and perfect for all your indoor/outdoor padding needs.
Luxury Foam joins a 1-inch layer of memory foam with a conventional foam base. The first of its kind made especially for crafters! It combines the advantages of both types of foam, adding comfort, support, and luxury to any home décor project. Luxury Foam is durable for everyday living, and is available in 2", 3", and 4" thicknesses.